Le François in Martinique is located on the Atlantic coast. You will discover along the roads, banana fields and sugar cane. Known for the coral reef and the beautiful lake, a boat trip to Josephine's bath is a must.
Le François : A la découverte des fonds blancs
Half a day or full day go visit our beaches, the mangrove, the ocean white depths and especially Chancel Islet where you will have the chance to meet with iguanas, an endemic species, visible only on this islet.
An appreciated and magical excursion for young like oldest.
Contact and reservation :
Pointe Savane – Impasse des Touloulous – 97231 Le Robert
00 596 696 39 80 27
By motor boat with 

Aqua XS

to discover the beauties of the Island:
With Xavier, go by boat on the Atlantic coast, discover mangrove swamp, Chancel Islet and iguanas, and admire the white backgrounds with turquoise water.
A day trip with a lunch on private floating shed!
The best way to discover Martinique otherwise!
Day all inclusive 75€ / person. 
Le François & surroundings: Distilleries visits
Habitation Clément  – Immerse yourself in the heart of history
At 1,5 km from Le François, Habitation Clément must be visited during your journey. Considered as one of the jewels of the Martinican cultural heritage, you will appreciate the perfectly maintained domain, the botanical garden and the facilities of the old distilleries.
Do not forget to finish your visit with the tasting and choose a wonderful souvenir to take away
Contact and Access:
Domain of Mahogany – 97240 Le François – 00 596 596 54 62 07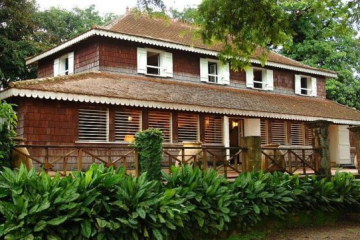 The Distillerie A 1710 : A plantation of organic sugar canes
A magnificent house located in the heart of a sugar cane and completely renovated respecting the tradition.
A guided tour well explained by lovers of their history!
Contact and acces :
On the road of le François – 00 596 596 50 58 42
For more information, read our article 
L'Habitation Saint Etienne – HSE
At a few kilometers from Le Robert, more exactly in Gros Morne, you will discover on more than 400 hectares, a recently renovated distillery in old cellars, The Habitation Saint Etienne!
Going there, you will have the chance to discover a town and a distillery full of history and authenticity!
Do not miss this visit!!!
Tell them you are staying at Palm Villas, you will receive a discount.
Open Monday to Friday from 9am to 4pm – Closed on Saturday and Sunday
Contact and Access :
N4– 97213 Gros Morne – 00 596 596 57 62 68
Le François : To delight your taste buds
La Ferme aux Orchidées :
In a soft and subdued atmosphere, you will enjoy a gourmet dinner. The menu made from fresh products between land and sea offers traditional and sophisticated dishes.
You will be welcomed in a lounge area from 6pm to share a cocktail.
Closed for lunch and Sunday. Booking is recommended.
Contact and Access:
Habitation du Simon – 97240 Le François – 00 596 596 54 10 85
Do not  hesitate to read our other articles to discover Martinique otherwise!
Palm Villas