Le Vauclin is located on the Atlantic coast of Martinique. The village is famous for its vegetables and fish markets, the pointe Faula beach is greatly appreciated for kitesurfing and windsurfing. The trade winds are a real privilege to enjoy these sports.
Le Vauclin : General information
Le Vauclin is a charming village focused on artisanal fishing and agriculture.
In the village you will find several local shops and a bakery facing the seafront.
The Vauclin is famous for its market, its authentic character, its ballads and its water, appreciated by the amateurs of kitesurf and windsurf.
Where to buy fruits and vegetables?
Le domaine de la Bergerie
To purchase fruits and vegetables from a direct planting, contact Claude who is in charge of the estate.
It is the opportunity to discover its flowery farm in a friendly environment surrounded by nature.
Contact and Acces : 00 596 696 27 36 89
When coming from Le Vauclin and towards Le Marin, it will be located in front of the intersection of Macabou beach.
Le Vauclin : Other things to know
00 596 696 25 18 09
00 596 696 89 10 68
18 rue de la République – 97280 Le Vauclin
3 rue Luis Collignon – 97280 Le Vauclin
00 596 596 74 15 32
2 rue Collignon – 97280 Le Vauclin
00 596 596 74 40 40
Dr Pichard Bernard et Dr Fondanaiche Christine
51 rue Schoelcher – 97280 Le Vauclin
00 596 596 74 42 84
However, in case of emergency, contact the UAS by dialing 15, or go – to Emergency CHU Pierre Zobda – Quitman in Fort de France.
Le Vauclin : Hikes
La Montagne du Vauclin, named : « le Calvaire »
Acces :
Once in Le Vauclin, take the road Saint Esprit for about 4 km, then (if you come from Le Vauclin) turn left at the sign "Le Calvaire, chemin de croix No. 2". Then continue to the top of the coast. Park in front of the hiking panel.
It is the highest point in south Martinique, accessible by a short climb surrounded by a luxurious flora and offering a wonderful view of the East Coast.
La boucle du Vauclin:
Acces :
From you villa go to the small road that faces the sea.
It is a 2h walk, with beautiful landscapes along the Atlantic coast. Possibility to stop at La Baie de Cochon for a picnic on a small beach through the mangroves.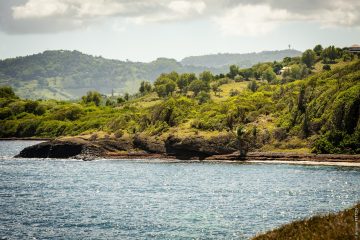 Le Vauclin : The restaurants
At pointe Faula, you will find some restaurants. Our preference ? Le Dklé, a restaurant in front of the sea. In a relaxed and pleasant way you can dicvoer a local cuisine with a great welcome!
Info and reservation: 00 596 596 48 32 63
We wish you a great discovery !
Palm Villas