The overflight in Martinique
the islets of Robert
As you probably already know, Martinique is full of diverse activities and sublime landscapes. Between hiking, diving, swimming, tours and tasting, you will have the choice to discover Martinique whether on foot, horseback or by boat …
Today, we tested: The overflight in Martinique … discover its beauty from the sky!

The overflight in Martinique: a unique journey
You will first choose your route, between:
the north and the peeled mountain,
the Atlantic coast flying over the peninsula of Caravelle and the islets of Robert,
the beaches of Sainte Luce and the Diamond rock.
We chose to hover over the Atlantic coast.
While traveling along the coast, the feeling of freedom is unique and the discovery awesome! We who knew the hike of the peninsula of the Caravelle, it was magic to discover it from there up, perceiving sometimes, the castle Dubuc, the lighthouse or the bay of the Treasury.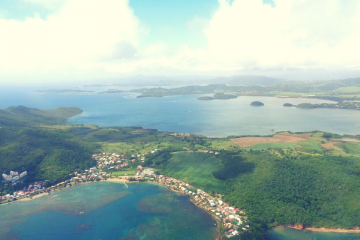 Then towards the islets Chancel and Madame, those who border the town of Robert and further we could see the islet Loup Garou and its famous coconut trees.
We continue towards the Eastern Cape where again; the landscape is breathtaking! The beauty of the seabed, coral reef and more turquoise water than ever impressed us.
Finally, we returned flying over the tip of the tip of the town of the 3 islets, before our eyes amazed, a less wild character of the island but a coast just as beautiful!
Overflight: A unique experience
30 minutes of course being passed we returned to Lamentin, the landing was done gently, as the takeoff. The pilot, very professional, did not miss the opportunity to describe the different landscapes that were available to us throughout the flight.
We took full eyes. Martinique will continue to surprise us through the beauty of these landscapes.
This island is full of secrets, do not miss the opportunity to discover it by plane! 
You too liked to discover Martinique? Leave us a comment 😉
Palm Villas